Systems 101: Network Analysis for the scared and uninitiated
One of the basis tools of using systems approaches is doing network analysis. This is the kind of thing where you produce diagrams that show relationships, influences or connections.
The Social Network diagram from Hell
The classic diagram here, and actually the wrong one to start with, is the Government's Foresight network diagram on Obesity, reproduced below.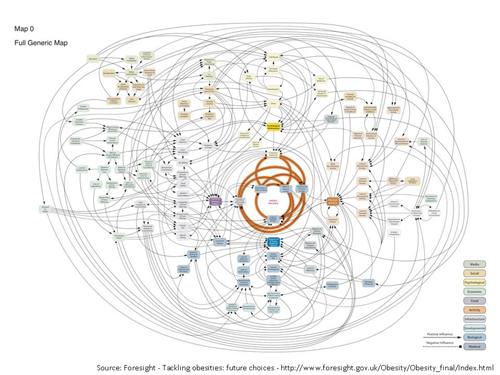 Why do I say this is the wrong diagram to start with? There are many good things about this diagram. Not least it is an attempt to be comprehensive. Well, first it's so complex it may well prevent you taking action rather than starting it. Second, this diagram is clearly the result of repeated refinement and improvement, so it's a more or less end product not a starting one, and a key thing about network diagrams is you need to live with them as they grow and refine in order to understand them. If you haven't "grown up with" this diagram, you can hardly expect it to fill you with joy. Third, it's only one type of diagram, and there are many.
So, where do you start with social network analysis if you don't have much time and money? Well here are my top tips of things that reward an hour's reading, and then encourage you to have a go.
The best starting quick guide
The International rescue committee produced a short handbook on this. Read this first. Its short and succinct. https://www.rescue.org/sites/default/files/document/1263/socialnetworkanalysise-handbook.pdf
Starting Network Analysis - some easy tools
My suggested two best starting places are the Home Office free how to guide on social network analysis produced in 2016 which can be found here https://www.gov.uk/government/uploads/system/uploads/attachment_data/file/491572/socnet_howto.pdf
Pair this with watching this video
https://www.youtube.com/watch?v=PT99WF1VEws
This is a really good read
https://academic.oup.com/heapol/article/27/5/438/752411/How-to-do-or-not-to-do-a-social-network-analysis

And finally, this is a useful overview too
https://www.slideshare.net/JeromyAnglim/how-to-conduct-a-social-network-analysis-a-tool-for-empowering-teams-and-work-groups

A revision tool
I find this a useful revision tool or a handy how to reminder to keep with me
https://cphss.wustl.edu/Products/ProductsDocuments/Carothers_2014_NAStartToFinishFinal.pdf
Using Excel
Some folk buy specific programmes or use R for Network ANalysis. But actually pen and paper or Excel for many purposes works for me. A good video on using excel can be found here https://www.youtube.com/watch?v=P33xa4l4GTM
Buying books
For really good books it's hard to beat John Scott's Handbook of Social Network Analysis here https://uk.sagepub.com/en-gb/eur/social-network-analysis/book249668 . But unless you're going to do lots and lots of this, you probably won't need it.
No comments
Leave a reply
Want to reference or quote us?
We welcome you quoting or linking to a piece on this site, please attribute and reference it fairly. A creative commons license will be coming shortly.
The content of each blog post is copyright (C) 2017 onwards and all rights are reserved. The Moral Right of the Author is asserted under the Copyright, Designs and Patents Act.
Your use of any page or pages on this site is taken as your agreement to our policies and terms of use. See our Information and Content Policy pages .